Covid-19 mitigation measures have led to numerous lifestyle changes across the world and in turn, these changes have lent impetus to new service delivery methods and business models in various industries.
China's healthcare sector is no exception. Restrictions on movement during the pandemic sparked a meteoric rise in the adoption of online pharmacy and medical services in 2020.
Senior Practice Leader at PeopleSearch Shanghai, Shanni Ying examines the online healthcare industry's potential and the resultant talent trends. 
By

Since Covid-19, online healthcare services have been gaining ground across geographies. For instance, Amazon.com Inc. launched an online pharmacy in the U.S. in November last year, disrupting the prescription drugs industry.
In China, experts predict that the provision of online healthcare services will grow in tandem with demand against a backdrop of favourable regulations.
For instance, China's Drug Administration Law of 2019 allows drug developers, manufacturers and sellers, and third-party e-commerce platforms to sell prescription medicines on the internet.
In addition, at the peak of the Covid-19 outbreak in February last year, China's National Health Commission (NHC) issued guidelines to encourage hospitals to provide online medical services to minimise population movements, reduce the risk of infection and relieve pressure on overstretched medical facilities. This accelerated the inclusion of certain online medical services in the national health insurance system.
In May last year, the NHC also encouraged provincial governments to establish their own mechanisms to oversee and regulate online medical providers, and to accelerate market access for internet-based hospitals.
To further address online medical consultations, draft regulations laying out more explicit procedures and price harmonisation mechanisms for medical services were issued late last year.
WIDESPREAD ADOPTION
These steps have boosted patient and consumer confidence, vastly reengineering individuals' healthcare journey from pre-diagnosis and treatment to post-diagnosis and management.
For example, Ping An Good Doctor reported a 900 per cent surge in new users, and an 800 per cent surge in online consultations between December 2019 and January 2020.
According to a survey by Bain & Company, in 2019, only 24 per cent of Chinese respondents had used telemedicine services.
But adoption rates are expected to grow robustly in the next five years. Telemedicine recorded an expected growth of more than 164 per cent. Online long-term illness management, digital records, on-demand services, and health/life insurance apps are also expected to see greater acceptance (refer to chart).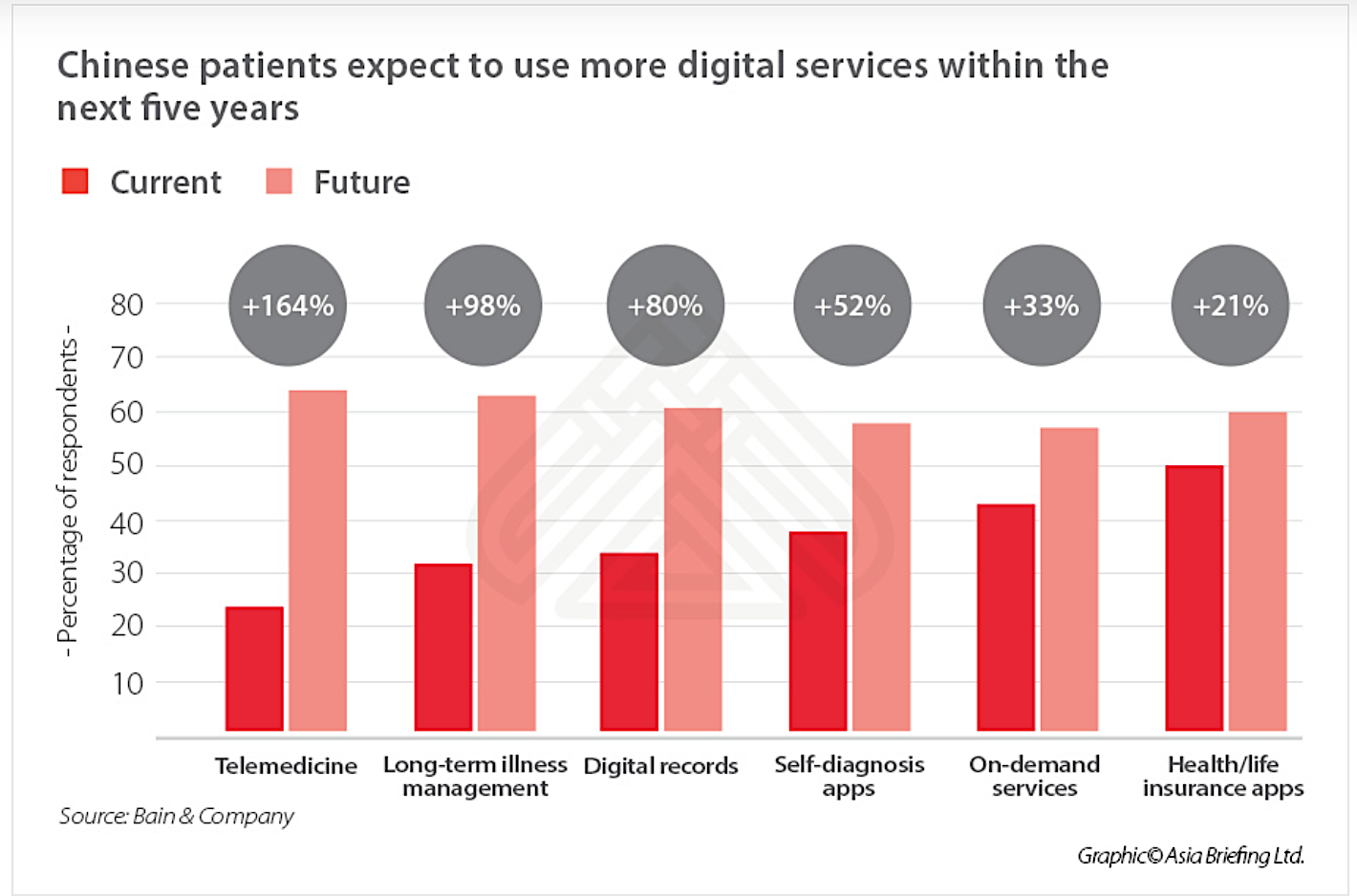 Companies' abilities to operationalise easy access to consultations and medication, especially in rural areas are also a key driving force in the online healthcare sphere.
EXPONENTIAL GROWTH FOR PROVIDERS AND ECOSYSTEM PLAYERS
In its prospectus ahead of its IPO late last year, JD Health International Inc. cited consultancy, Frost & Sullivan as saying that the industry is forecast to grow at a compound annual rate of 39 per cent from 2019 to 2024.
China's new antitrust laws and action against Alibaba and its affiliates may have caused a temporary chill, but even after a sharp selloff in December last year, top Chinese online healthcare companies saw their share prices soar.
Here are some key examples:
Shares of Alibaba Health Information Technology Ltd. gained 155.6 per cent in 2020.
Shares of Ping An Healthcare and Technology Co. Ltd., a unit of China's largest insurance provider Ping An Insurance (Group) Co. of China Ltd., rose 66 per cent.
In general, the emergence of online hospitals providing medical consultations, diagnosis, treatment, prescriptions and medication delivery is lending impetus to the burgeoning of a comprehensive internet healthcare ecosystem underpinned by both medicine and technology.
The ecosystem includes mobile medical equipment manufacturers, medical services providers, mobile operators, application developers, data companies, insurance companies and venture capitalists.
Digitally-assisted healthcare delivery will naturally also sustain accelerated growth in the technology sector, most notably in the realms of artificial intelligence (AI), machine learning for diagnostics and treatment, and augmented reality or AR for surgeon training.
Among other entities, medical technology (MedTech) companies and software as a service (SaaS) businesses stand to benefit from partnership opportunities with offline healthcare providers.
5G adoption in the near future and more widespread Internet of Things (IoT) support for digital services will further propel developments in the industry.
CROSS-INDUSTRY HIRING: BENEFITS FOR BOTH EMPLOYERS AND CANDIDATES
All of these industries are hungry for talent at the moment.
Ideally, online healthcare companies want a candidate with experience and expertise in all facets of the business – medicine, technology, and internet healthcare operations and business strategy. However, employers realise this is an unrealistic expectation.
As such, there is a rise in cross-industry hiring. Roles such as product developer, project manager, internet operations specialists, data analysts, digital marketers, UI/UX specialists and user growth researchers from various industries who can apply their transferable skills to online healthcare are in great demand. Employers also realise that tech professionals from other industries can bring fresh perspectives to stimulate innovation as long as they have a digital mindset.
While most professionals seem to be seeking career stability at this time and might be reluctant to switch industries, we believe it is actually a good time to consider external opportunities especially in the healthcare sector as a whole, and of course, more specifically, the online healthcare industry. The various technology players in the ecosystem are also offering job and career growth opportunities for tech professionals.
Continuing global economic uncertainty has naturally made employers more discerning, so they are looking to hire top talent without increasing their hiring budgets exponentially.
Nevertheless, we would advise professionals to hone their skills accordingly in order to reap career growth benefits in what is clearly a flourishing industry. Remuneration packages are likely to improve in the medium to long term.
You may also like